GET AN INSTANT, NO OBLIGATION QUOTE + REQUEST A BOOKING
GET AN INSTANT, NO OBLIGATION QUOTE + REQUEST A BOOKING
Advantages of our Exclusive High-Flow, High-Temp, Residue Free and VOC Free Cleaning…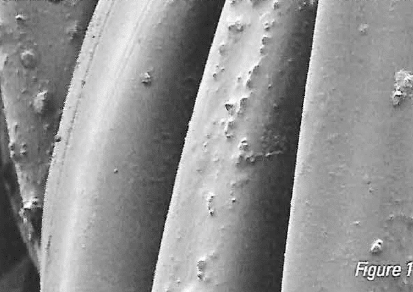 DETERGENT BASED CLEANING
Scanning electron microscope image (above) showing carpet fiber magnified after cleaning using industry standard detergent based "cleaners". The residue-laden carpet looks unhealthy, and it is. In addition to health concerns, residue contributes to wear and re-soiling.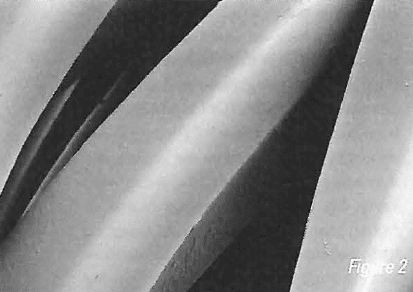 DETERGENT FREE CLEANING
Scanning electron microscope image (above) showing carpet fiber magnified after cleaning with my detergent free cleaner. The detergent free cleaner eliminates problems associated with soapy sticky residue issues, while being non-allergenic, non-toxic and odor-free.
Frequently Asked Questions

Why are your prices higher than some others?
First, in order to make an accurate comparison, ask the other companies for a written quote with the final estimated price. Our prices are all-inclusive. Whatever it takes to do the best job without surprises, up-selling or surcharges. Second, you are hiring a skilled owner operator who cares about his work. Third, our $90,000 mobile cleaning system, carries over 210 gallons (800L) of specially treated, softened water to rinse the fibres at much higher flow rates and temperatures (up to 250F) than traditional steam cleaning, removing all traces of previous residue for a deeper clean that you can "feel".

Why do you not do business over the phone?
The demand for our services greatly exceeds what our small boutique business can handle. We can get hundreds of calls each week! Most people want to book something last minute or negotiate the cost. We book ahead and our prices are transparent and non-negotiable. If there is a question you have that is not answered on our website, please email us at; bookings@getfreshcarpetcleaning.ca and we will respond quickly.

What if I overestimate the room sizes?
No need to worry. We will make the necessary adjustments. However, we appreciate if you fill out the form as accurately as possible so we can book the right amount of time to do the job.

How long does it take to dry?
On average the carpets will be "dry to the touch" in 3 – 5 hours. However, the humidity levels could still be high enough to cause some furniture stain to bleed on the carpet, which is permanent. We recommend waiting until the next morning to put back furniture with wood feet. Furniture that we clean under is protected to dry safely in place. For move-ins, we recommend cleaning the day prior to the move.

Cancellation Policy
Please don't cancel! Ok, we know that sometimes uncontrollable events and emergencies happen. All we ask is that you respect the fact that last minute cancellations mean we will not be able to fill your spot and that results in a loss of income which is difficult for a tiny boutique company like ours.

What are your payment terms?
Payment is due at the time of cleaning. We accept Cheques, Visa, MasterCard, and e-Transfer.
TAKE THE BAREFOOT CHALLENGE!
In the morning take a clove of garlic, cut it in half and rub the wet garlic on the bottom of your bare foot, then get dressed.
Within 24 hours you will taste the garlic!
Likewise, When you walk with bare feet on carpet, moisture from your feet activates the remaining detergent and chemical
residues left in the carpet. They are are absorbed through your skin and into your blood stream, often attacking the neurological system.

RESIDUE FREE
Soap Free, Detergent Free, Reside Free cleaning detoxifies the carpet, removing past residues.
We invite you to take the Barefoot Challenge in the section below.
SAFE
No enzymes, bleaches, encapsulating polymers, butyl's, limonenes, d-limonenes, chemical surfactants, soaps, detergents, fragrances or high PH. Safe for all members of your family including your little ones and pets.

AIR QUALITY APPROVED
Fragrance free, Odour Free and Hypoallergenic carpet cleaning with no Volatile Organic Compounds (VOC's) that negatively impact the air quality of your home. Safe for people who suffer from asthma, allergies or chemical sensitivities.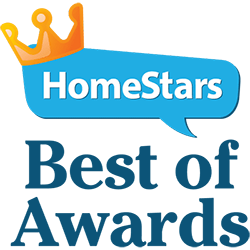 REVIEWS AND AWARDS
Get Fresh Carpet Cleaning Calgary recommends HomeStars for trusted, verified reviews. We recently acquired their seal of approval as a HomeStars Verified Company.
Get Fresh Carpet Cleaning has won the 'Best of Calgary' Awards for the last 6 years. We want to give a big thank you to all who took the time to leave a review!
NUMBER OF REVIEWS ON HOMESTARS
BEST OF CALGARY AWARDS WON
GET AN INSTANT, NO OBLIGATION QUOTE + REQUEST A BOOKING
We will do our best to get back to you within 24 hours during normal business days.